I have used my Google homepage for over a year but discovered something new (at least to me) last night. You can use tabs to organize your web content. While I use Bloglines, like most people who read blogs I have so many that I subscribe to that there isn't always time to read them all. I keep my favorites on Google so I can just skim the headlines and read the most interesting. Up until last night I had all my content on one page. At this time Google only allows 6 tabs but you can put a lot of information on each page. Using tabs I was able to group by subject and make it easy to see new posts.
If you are new to Google you can sign in to your personalized homepage using your gmail login. Google has tons of widgets that you can add just by clicking but you can also add feeds by clicking on add stuff and then choosing add URL. If you have the link for the sites rss feed you can paste it into the provided form and google adds it to your page. If you don't know the address for the feed you can try typing in the web address of the page and click the button that will search homepage content. If you presently have all your content one page it is easy to create tabs and then just drag items to the different tabs.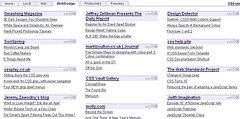 I learned another trick while I was playing on Google. You can search Google blogs for blogs related to a particular subject you are interested in. Last night I did a search on blogs on TCEA. On the left side of the results page there was a link for the RSS feed. I added that feed to my Google page, clicked edit on the header and typed in 9 which is the most entries it will show and now I have a feed that will show me blogs that mention TCEA. You can do the same by searching on Technorati . Just enter your information into the search box and then look for a button that says RSS or Subscribe. Right click on it and choose properties. Copy the address on the properties box and paste that into the "add URL" box on google and click ADD.
I hope you find these little hints helpful. There is a weather prediction of freezing rain here tonight and tomorrow so I plan on staying by the fireplace and if the power stays on – reading online!