Just for the toys – ok, forget the kids.  I may have to buy one of these for myself. They are just too cute!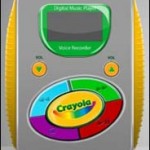 "The Crayola MP3 Player is designed for children 4 and older and has a fun lozenge-shaped control panel with five large differently colored buttons for each function. The MP3 player also features a built-in voice recorder and speaker, for more interactive play. It holds 2GB of music and comes with earbuds as well as colorful letter stickers enabling kids to affix their names to the unit. The player runs on one AAA battery (not included) and can be plugged into the Crayola AM/FM Alarm Clock Radio dock."
They aren't out yet and are supposed to run about $49.00.  I can see a whole class of first graders, wearing their little earbuds, and listening to their teacher podcast.  I love these!