Paschal threw out a curve ball with Shrimp Montage for a prompt.  I couldn't catch it but I "tipped" it as it flew by.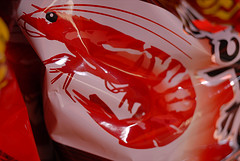 They were the ugliest things she had ever seen in her life.  She wanted to cry.  How could she tell – what would she say?  This is awful, what was she going to do?  She knew that his mother didn't approve of her and she had hired the decorator because she knew there was no way the old bat would like anything she came up with.
Now she was going to have to tell her husband that she had spent several thousand dollars on drapes that were a cross between The Little Mermaid and The Monster From The Black Lagoon!  Some kind of weird shrimp montage with mustard yellow and puke salmon.  Hideous!
She had gotten the name from a group of her ladies she had lunched with.  They all grew up with Jordan and had known him for years.  She should have known that there was some resentment there.  This decorator was a train wreck and they had to have known it.  Jordan was good to her but this one was going to be a little hard to explain.  No matter how she played it in her head, either she had absolutely no sense of style or she was just stupid and gullible and listened to the wrong people.
Maybe she could just set the place on fire.  Would the drapes burn before he got home?  She hoped so because as soon as she got rid of this curse of a decorator she was going looking for liquor and a lighter.
Picture by http://www.flickr.com/photos/modomatic/