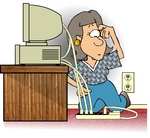 Our campus is at about 40 80 percent getting on the new domain.  This is pretty  good.  I would have liked to be further along but weird little things happen to slow the process down.  People are, for the most part; being incredibly patient and supportive for which I am so grateful.  Hitting hit hard tomorrow to try to get as much done before Monday as possible.  We have to go to Tyler Saturday but maybe Sunday afternoon I can finish up any stragglers before students arrive on Monday morning.
On the ride to Tyler I can work on my list of where to start Monday morning.  I'm glad I only have the responsibility for one campus.
There hasn't been time or energy to write for FUN until tonight but things should get a bit easier now.
For tonight it's tv, french fries, ice cream, and early to bed.
P.S. A thank you to my daughter who was hired as a temp to help us get all this done – she has been AWESOME!