I woke this morning to a yard covered in snow and more falling.  The wind is blowing what is already there and I plan to keep my nose and all other parts inside in the warm today.  Spring?  Who knew?
Read an e-book week is over but I am still getting to know my Kindle and checking my mailbox for my prize from Nara Malone.  I filled my Kindle queue with several books from authors that sometimes hang out at some of the same places I frequent, such as Sunday Scribblings and Three Word Wednesday.
I just finished reading ShapeShifter, The Demo Tapes Year One and Year Two.  The Author, Susan Helen Gottfried, blogs at West Of Mars and I "met" her through Sunday Scribbling. I loved them!
Susan's SS blogposts are outtakes that revolve around the story of ShapeShifter, a fictional rock band, the characters and their relationships and the situations they find themselves in. I had already been introduced to Mitchell and Trevor and the others but this it was fun to get to know them a little better, to see a bit of backstory, and catch up without having to scroll backwards through multiple blogposts. From her website:
The Demo Tapes were born out of the demand of the groupies who hang around the Meet and Greet. They are collections of short fiction that introduce you to Trevor, Mitchell, and the rest of the fictional band, ShapeShifter — as well as the world in which they inhabit.
Susan's book, Trevor's Song has not been published YET but I hope it will be – the Demo Tapes were enough to whet my appetite and make me want the full meal deal.  If you are a wanna-be band groupie or would just like to hang out from a distance click the picture of the books to go to a page that will show you how to get them for yourself, either in print or on your favorite e-reading device.
Now where did I put my ShapeShifter t- shirt?  It's almost time for the concert….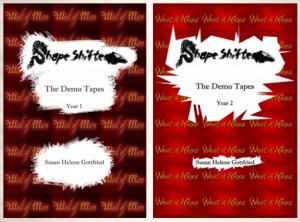 If you can't see the image – go here:Â  http://westofmars.com/west-of-mars/the-books/