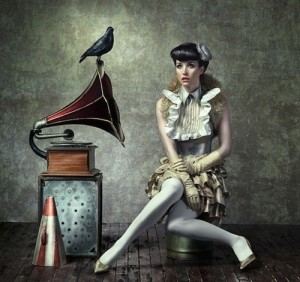 The party was a big success.
I had the shoes, the hat
the dress.
I danced dawn under the table
and I drank until my nose  well
you know…
but
I never got his name –
the one who danced,
who's hand was at my back
and guided every graceful step
as though my feet were
winged things
and smiled awhile.
I never tired.
Now I sit
and wonder if
a hundred years will
pass ere I forget
this night,
this dance.
Image Prompt: http://img3.visualizeus.com/thumbs/10/11/03/girl,glamour,vintage,fashion,retro,surreal-4870a22c65bd353f962a8596bec6d1cc_h.jpg