The summer is fading away into this heat that makes me sluggish and unwilling to go outside unless necessary. Trying to strike a balance between keeping plants alive and not wasting water is tricky. Even early morning and late evening are unpleasantly still and warm. I saw hopeful clouds this morning about four-thirty and scanned the weather report for a sign of rain but there was nothing close by.
I have not written much this summer. It seems that my muse packed it's bags and took a vacation, leaving me here to remodel a bathroom and now, train a puppy (or be trained by one!) I am learning to take her outside (often) and fetch her stuffed monkey and throw a ball to her. Hopefully she approves of my progress. Roxie is gracious enough to allow me to sit in the chair with her and watch tv though I must be boring because she goes to sleep until she rolls over and waits for me to figure out that she wants her belly rubbed. We will need to work on the leash situation. She does not care for it at all but it is one more new thing in her life. If anyone has tips for being trained by your Mauxie, I am up for suggestions.
Progress continues on the bathroom. We stripped the wallpaper, prepped and textured the walls and will begin painting today. Time to get out of this chair and gather paint supplies.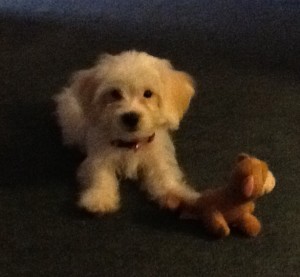 and one more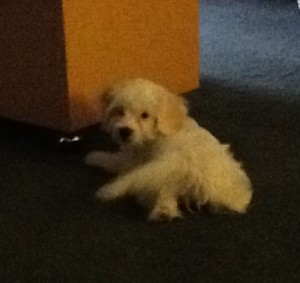 I will try not to bombard the internet with pictures…